This is part three in a three-part blog series on Circle Segment Tools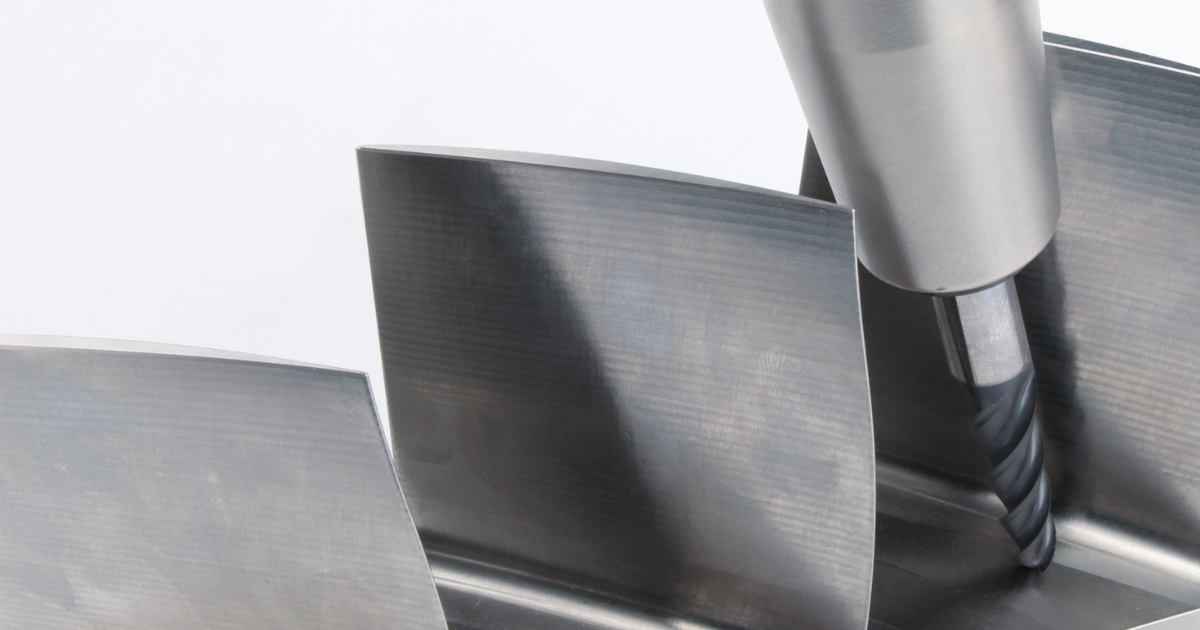 If you read Part I and II of Circle for Success, you already know that: A) EMUGE manufactures four distinct styles of circle segment cutter, B) this relatively novel machining technology is ideal for any shop looking to slash cycle times in mold and die work, turbine components, medical implants and more, and C) the application of these tools requires advanced programming techniques, not to mention support from someone knowledgeable in their use (at least initially).
You also know by now that the terms barrel milling and circle segment cutting are largely synonymous, even though the first of these is slightly misleading. Yes, barrel-shaped cutters are available, yet it's the oval forms and taper forms that typically provide the most significant improvements in productivity, part quality, and tool life. This is especially true on five-axis machining centers, where the ability to precisely and dynamically control engagement angles means stepdown amounts many times larger than is possible with ball nose end mills.
Pictures worth a thousand words
Google videos for circle segment cutting. In many of them, you'll see what appears to be erratic, sometimes wildly exaggerated movements as the cutter interpolates the programmed tool path. These unexpected gyrations are due to the fact that the part is being machined by what is functionally a ball nose end mill measuring several meters or more in diameter. That's what the CAM software must replicate as it drives the tool into and around part profiles measuring just a fraction that in size, and what the machine tool's control and drive systems must execute without missing a beat.
Using HyperMilll's "tangent plane" strategy, the Taper Form tool can finish straight wall surfaces with small radii in deep pockets. The toolpath points the tool tip into the corner to remove more material per pass.
Does that mean only high-performance machine tools can support circle segment cutting? Good question. The answer depends on several factors, including tool selection, part tolerance and geometry, surface finish requirements, and more. That said, few would argue that a relatively new, high-end machining center will perform better than a budget CNC or one well past its prime, but that statement is true for most machining applications. What's different about circle segment cutting is the degree to which even very small interpolation errors can affect the finished product. Because of this, any shop attempting "barrel milling" should first verify that their five-axis machining center is up to the task by inspecting it with a laser or ball-bar device, and then following sound machining practices: use balanced toolholder assemblies, minimize tool runout, make certain work holding is secure, and apply feed rates, surface speeds, and depths of cut according to the end mill manufacturer's recommendations.
Similar statements can be made about CAM systems and post-processing software. As mentioned in Part I, EMUGE worked closely with Open Mind to develop the necessary algorithms in its hyperMILL MAXX Machining software. These same efforts were made with CNC Software and Mastercam, culminating in the company's Accelerated Finishing option. Other software providers have developed similar solutions, including Siemens NX, Surfcam, EDGECAM, and ModuleWorks, with more on the way. As with many CAM packages, each has a "sweet spot" in which it performs most effectively—it's up to you as the end-user to do the necessary homework and find which one works best for your unique needs.
Circling the wagons
The takeaway from all this is clear. There's probably no need for a new machining center, provided the shop's existing equipment is electro-mechanically sound and the application requirements do not surpass its capabilities. And your existing CAM system might perform spectacularly, but then again, it might not. Look at what's available, set aside plenty of time for testing and training, and above all, be prepared to ask for some help. To this last point, EMUGE is a good place to start.
Some might say it's not worth the hassle, and they might be right. Circle segment cutting is not for everyone. As discussed, its implementation requires a higher level of time, effort, and investigation than traditional machining solutions, making it less suitable for job shops and others doing low-volume production. And yet, given the potential for 90% or greater reductions in cycle time, circle segment machining of even a single mold cavity might be enough to achieve a return on investment. Ready to give circle segment cutters a try? Shoot us an email or pick up the phone. We're here to help.
Download the new Circle Segment and Turbine End Mill Brochure here.