For job shops and others machining a wide variety of materials, general-purpose end mills offer a nice balance between performance, tool life, and inventory costs. Yet some metals are either so difficult to cut or machined in large enough quantities that only the very best combination of carbide, coating, and geometry will do.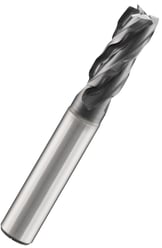 So it is with many aerospace and medical manufacturers, where super-tough metals like titanium and Inconel are routine. In these situations, it only makes sense to invest in a material-specific cutter, designed specifically for the different superalloys used in demanding machining applications.
I won't go into all the details except to say that Emuge's TiNox-Cut end mills were designed with these shops in mind. Four styles are available, covering the full range of roughing to finishing operations in Inconel and other nickel-based superalloys, titanium, and 300-series stainless steels. Each has been optimized for a specific set of materials and cutting conditions.
Rather than talk about multiphase coatings and variable flute construction, I think it's more important to discuss expectations. Let's leave the end mill details to the press releases and product brochures. I say expectations because shops are sometimes surprised to hear that these aren't just plug-and-play cutters.
What that means is, you can't expect to drop in a high-performance end mill without tweaking some feed and speeds, adjusting depths of cut, and quite possibly reprogramming the job. Resist the urge to use a material-specific cutter in the same manner as one designed for general-purpose use.
Doing so is the equivalent of using a high-end sportfishing boat to putt around the pond looking for crappies, or taking a supercharged 4X4 with a 6-inch lift kit down to the corner grocery store. Pick your analogy, but the point is, these end mills are capable of far greater metal removal rates than ones designed to cut aluminum, steel, cast iron, and everything in between. That, and they cost a bit more to boot. So as with deep-sea fishing and off-roading in the boondocks, some changes will be needed to maximize their use.
That means trochoidal and other high-performance toolpaths will almost certainly be a must. So will high-pressure coolant, and tooling rigid enough to handle the loads. Once everything is in place, be prepared to take some test cuts. See how hard you can push the tool and what cutting parameters work best for your unique situation. Finally, consider that a smaller cutter might be a better choice than a larger one due to its lower cutting forces, especially lighter-duty CNC machine tools. If you have any questions, you know where to find me.
Download the new TiNox-Cut End Mills for Aerospace Materials Brochure here.