Materials that require threads to be thread milled (versus tapped) are usually very complex alloys created for components or parts designed for long term use.
In the last 10 years, there has been an increasing demand for materials suitable for manufacturing challenging aerospace, defense, and medical applications. Nickel alloys (Inconel), stainless steels, titanium, and even aluminum are increasingly being used. These alloys are typically created with a higher than average hardness, abrasiveness, heat resistance, and overall tool wearing characteristics.
In the industries using these types of materials, the number of part runs or volume of threads is typically lower than found in, say, automotive applications. For example, an aerospace shop may only have one 500 piece part run per year. In this case, the cycle time on producing threads may not be as critical as the tool life and longevity of the cutting edge, but the cutting demands are often greater! The tough materials used in aerospace and medical applications require solid carbide cutting edges to achieve quality threads. Solid carbide tools last longer in tough materials and, in a worst-case scenario, are easier to remove if broken, avoiding time and cost associated with scrapping a part.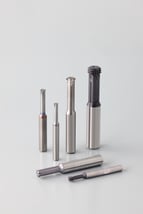 ZGF-S-CUT, the latest single plane cutting tool from EMUGE was developed with hard, exotic metals in mind. The ZGF-S-CUT line of premium sub-micro grain carbide thread mills is ideal in demanding materials and industries such as aerospace where nickel alloys, titanium, and stainless steel are the norm. A unique design enables three-tooth pitches to simultaneously rough and finish-cut threads. The first tooth acts as a rougher, while the second and third teeth finish the full thread profile, dramatically increasing tool life and reducing cycle time. Available in 2xD and 3xD lengths, ZGF-S-CUT typically delivers 10X higher tool life and cycle time reductions than conventional tools!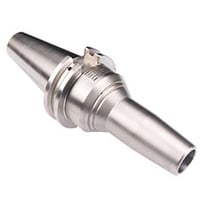 Combining the ZGF-S-Cut with an EMUGE FPC Milling Chuck creates an ideal setup for successful thread-milling in exotic materials. The FPC's precision holding power allows shanks of 3mm or 1/8" to be rigidly held in its exclusive holding system. The FPC system achieves full contact of the shanks by pulling a slightly tapered sleeve into the body of the holder, using its internal gear system.
This tool and holder combination delivers optimal stability and rigidity to achieve a successful cutting action in very hard or difficult materials, especially with a 3-axis simultaneous tool path movement. It also allows tools to run unattended for longer periods, reducing the need to stop the machine to gage the threads and compensate for the diameter. Because the tool does not wear as fast as a typical single plane cutter with only one row of teeth, cycle times are reduced by eliminating the need to compensate the diameter so often.
Experiencing threading challenges? Looking for programming assistance? Your EMUGE sales representatives can offer simple programming suggestions or actual program codes along with optimized tooling recommendations. Working together, we can provide detailed reports with programming instructions and where applicable, actual sample test cuts with video documentation.
Download the ZGF-S-CUT brochure or feel free to contact us with any questions!