In PartOne of this article, I presented some reasons why shops should consider material-specific taps. This section will explore some of the features to look for in one. Before diving in, however, it's essential to recognize the difference between plug and bottoming taps.
The first of these typically have a spiral point or left-hand spiral with a longer chamfer, both of which are designed to push chips ahead of the tap. They should only be used on through holes when the chip can be completely pushed out from the core hole before the spindle reverses and the tap begins to exit.
Bottoming taps, as their name implies, are intended for bottoming applications where chip room is sparse. Their right-hand spiral—which is usually fairly steep—pulls chips up and out of the hole. Failure to check this box will almost certainly lead to tap failure and scrapped parts.
Then there's the geometry of the tap to consider, particularly at the chamfered end, where all the cutting occurs. Just as end mills and drills often boast optimized geometries for cutting aluminum, hardened steels, and heat-resistant superalloys, or HRSAs, so do taps. In fact, given the importance of efficient chip evacuation when tapping, one can argue that using the correct geometry is critical.
For instance, tough, long-chipping materials like stainless steel and nickel-based alloys require a tap that forms tight curls for easy evacuation. Hardened materials need a straighter chamfer for increased strength, as do high-tensile alloys such as CGI and other short-chipping metals.
Finding the right coating is also vital. Given the wide range of surface treatments and multiphase coatings available today, it's not terribly difficult to find one with the optimal balance of lubricity and wear resistance. These coatings are especially beneficial with cold-form tapping due to the higher pressures involved. Whether cut or form, though, coatings provide the longest tool life possible with predictable tapping results throughout.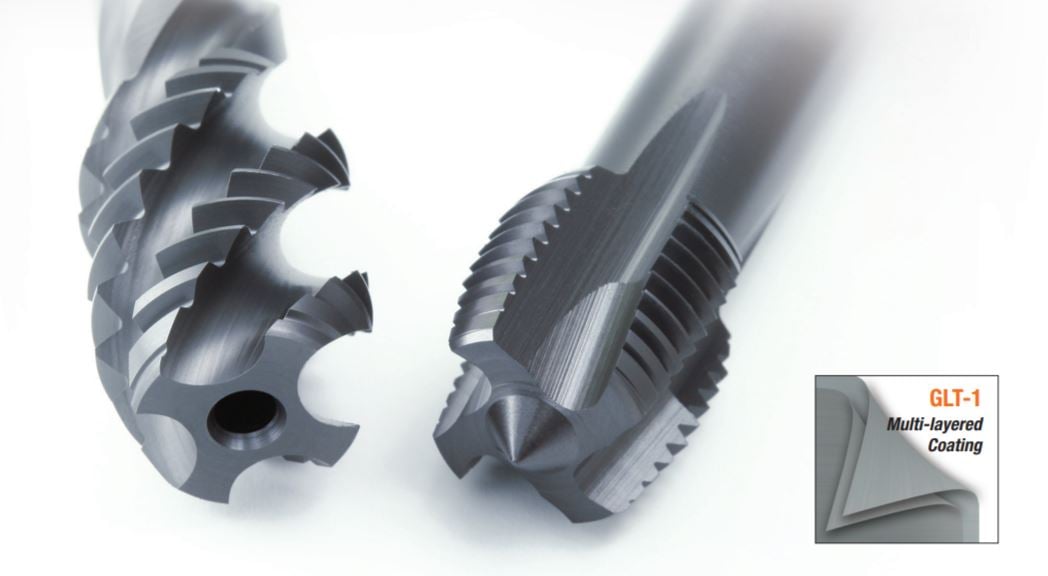 Finally, don't be afraid to take alternative threading approaches. Chief among these is thread milling. Because it breaks chips into smaller pieces, there are fewer concerns over evacuation, nor is a material-specific geometry as critical. And hole depth permitting, some thread mills can be used to cut multiple thread sizes, eliminating (or at least reducing) any complaints about cutting tool inventories. Take care in this case, however, as high-performance thread mills are often designed with a specific pitch and diameter in mind.
Size control when thread milling is also far easier than with tapping—if the gauge is a bit tight, just change the tool offset and recut the thread. Finally, and perhaps most appealing to those making high-value parts, there's no worry over breaking a tap and quite possibly scrapping the workpiece.
Whatever the approach, feel free to give us a call if you have questions. Whether it's thread milling, tapping, drilling, tool holding, or circle segment cutting, EMUGE's here to help.